Welcome to Citicore Energy REIT Corp. (CREIT)
Invest in an alternative asset class that operates in a crisis-proof industry and provides essential services. Be empowered by an investment that promotes renewable energy generation, agricultural production, and community development, offering stable and sustainable income, above market returns, and capital appreciation.
Invest in and for Our Future.
Powered by Clean and Sustainable Renewable Energy
Through Citicore Energy REIT ("C-REIT"), the country's first energy REIT, we provide essential services that operate in crisis-proof industries, supported by government through the Renewable Portfolio Standards, with increasing market demand and robust outlook.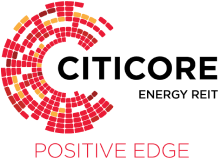 1. Unique opportunity to invest in a distinct REIT Asset Class with a green revenue portfolio

 2. Expansive group synergies through Sponsor's committed support

3. Well-positioned to capture robust outlook and growing demand for renewable energy

4. Superior operational track record of CREIT's tenants

5. Secured long-term offtake agreements from reputable customers for all tenants

6. Experienced and agile professional management and leadership team

7. Significant upside through asset acquisition and operational optimization

8. Sustainable investing and corporate social responsibility
Our Portfolio
Sustainable investment opportunity that creates a positive impact on the climate and enriches the lives and well-being of our communities.
CREIT intends to deliver a sustainable investment platform with a renewable energy asset portfolio that offers shareholders and investors above-market returns and long-term capital growth appreciation.
Offering sustainable investment anchored by a strong ESG platform.
Citicore Energy REIT Corp. ("C-REIT") is engaged in renewable energy generation as well as property leasing, both from leasehold and freehold land assets. Originally known as Enfinity Philippines Renewable Resources, Inc., a company established in the Philippines and incorporated on July 15, 2010 focusing on exploration, development and utilization of renewable resources such as sun and wind, C-REIT operate as a REIT upon compliance with the requirements of the REIT Law.