ABOUT US
Citicore Energy REIT Corporation
Business Profile
The First Renewable Energy REIT in the Philippines
Citicore Power Inc. ('Citicore'), a Community-Focused Renewable Energy Company with a healthy mix of operating assets and solutions in the renewable energy, water and biomass spaces, through wholly-owned subsidiary and sponsor Citicore Renewable Energy Corp. (CREC), will be participating in the Real Estate Investment Trust (REIT) market though the establishment of Citicore Energy REIT Corporation (C-REIT).
CREC is one of the leading players in the local energy space and is the first and only vertically integrated renewable energy company in the Philippines, encompassing pre-development, development, construction, up to operations and maintenance of solar power plants. CREC strengths lie in its proven track record, strong brand reputation, and ability to develop, maintain and operate highly competitive and attractive portfolio of income generating renewable energy real estate properties which consists of a solar plant of different capacities and across multiple regions in the Philippines.
Enfinity Philippines Renewable Resources, Inc. ('EPRRI') – a wholly-owned power generation company by CREC, established in the Philippines and incorporated on July 15, 2010, focusing on exploration, development and utilization of renewable resources such as sun and wind – was renamed Citicore Energy REIT Corporation on October 12, 2021.
C-REIT shall operate as a Real Estate Investment Trust upon compliance with the requirements of the REIT Law and will benefit from a strong portfolio of freehold and leasehold assets, operating in crisis-proof and essential industries, with a clear path for long-term sustainable growth and capital appreciation.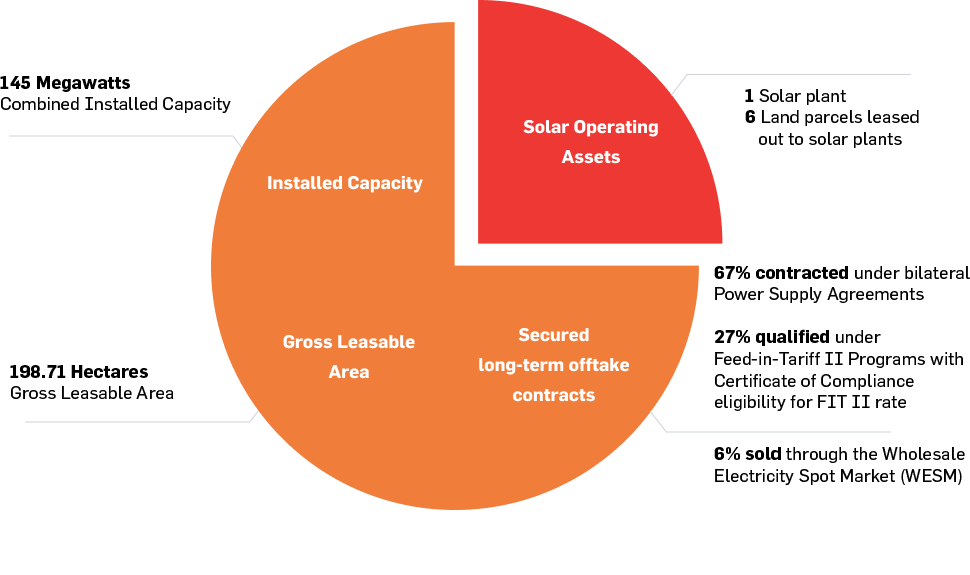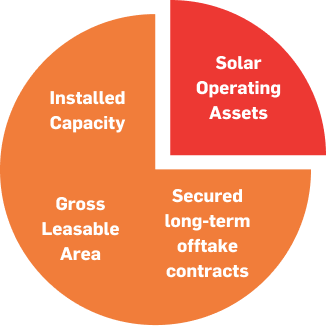 INSTALLED CAPACITY
145 Megawatts
Combined Installed Capacity
GROSS LEASABLE AREA
198.71 Hectares
Gross Leasable Area
SOLAR OPERATING ASSETS
1 Solar plant
6 land parcels leased out to solar plants
SECURED LONG-TERM OFFTAKE CONTRACTS
67% contracted under bilateral Power Supply Agreements
27% qualified under Feed-in-Tariff II Program with Certificate of Compliance eligibility for FIT II rate
6% sold through the Wholesale Electricity Spot Market (WESM)